"You create everything that happens to you"
Although I have read about the 'Law of Attraction' from the books like Secret, Alchemist etc, I have never experienced it in my life until this happened.
Rewinding back by around six months, my friend Abhash Kumar asked book recommendations from his network on Facebook. I was going through the comments to find any interesting books to read.
One of his friends commented 'Crush It' by Gary Vaynerchuk for which many had responded as to how Gary's books were real gold. That was when I came to know about Gary Vaynerchuk for the first time (Ssshhh. Shame).
I hit the library and brought home three of Gary's books the next day and started reading them. I fell in love with his honest writing.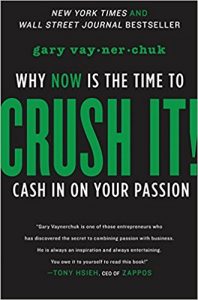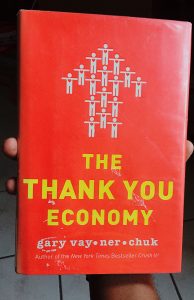 (Here goes my review for the book 'Crush It')
I started following him on all his social media channels (he is everywhere) and listened to his podcasts for a while as well. More I read about him and watched his talks, I really wanted to listen to him in person and say thank you.
I put ' Meet Gary Vaynerchuk ' on my list of goals to strike off.
I came across the video of Gary Vaynerchuk speaking at Niagara, Ontario in February 2017 (video below). I came to Canada in July 2017. Missed it by a few months.
I came to know he was coming back again in February 2018 to speak in Toronto at Generation Now 2018. This was my opportunity.
When the registrations opened, I checked the price of the tickets. It was around 150$ for a general admission. Around 500$ for VIP tickets which included a 'meet and greet' with GaryVee and his latest book 'Crushing It' with his autograph.
I was waiting for my work permit then and I was contemplating whether I should spend money on the tickets when I did not even have a job.
It's like you really want to buy something that you love but at the same time, you don't want to spend a lot on the same.
What are the other ways to attend this conference?
Breaking into the auditorium without a ticket – not an option at least for me 🙂 (Actually, a guy did just that and ran to the stage while GaryVee was talking and he appreciated the hustle as well)
First Attempt: Volunteering 
Every event needs volunteers and a conference of this magnitude will definitely need a lot of volunteers. I wasted no time and immediately found the organizer's email and wrote an email expressing my interest in volunteering and quoting my previous volunteering experiences at conferences like Surge by Web Summit.
Shauna Arnott is an amazing person and she is the brainchild behind super cool conferences like Haste & Hustle and Generation Now 2018.
She responded positively saying that she hadn't gotten to the volunteering part yet as the conference was months away but she assured she will keep me posted when it gets to that.
Second Attempt: Raffle Tickets
There were a few meetups that happened in Toronto that raffled a pair of tickets (general admission). I tried my luck but I never got lucky there.
Third Attempt: Interac's Future of Payments Contest
Now we get to the part we are all waiting for. Interac was the title sponsor for the Generation Now 2018 conference and they announced a contest on "Future of Payments" and they were to pick 5 winners who will get an all-expense paid VIP ticket for the conference.
This entailed a video pitch predicting how the future of payments is going to be (excluding mobile wallets and cryptocurrencies). I had ideas but I was contemplating if I should put myself before a camera and do it.
The last day to submit the entry was November 17 and needless to say, I finally made up my mind and did a couple of takes to get this one below on November 17.
My thoughts for the Future of Payments with @INTERAC contest. Betting big on the AI bots to do the talking. #GenNow2018 #interac pic.twitter.com/FNhqp6OMQI

— Sundaresan Sekar (@SundaresanSekar) November 17, 2017
I did not really think it would be picked until Shauna called me after three weeks and broke the awesome news. I was one of the 5 winners. Here's what I won as a part of the contest.
VIP ticket to Haste and Hustle on February 27th at the Sony Centre in Toronto (Front row seats, lunch with VIP's and speakers, specialty networking, Gary's new book)
Special meet and greet with Gary Vee
Meet and greet event at Interac®
1-year membership in Powerful Sales Solutions Sales Training Academy
Extra swag from sponsors
Profile on the Haste and Hustle social media platforms
I was on cloud nine. I had my profile go up on Generation Now's website (still there) and their social media team featured me in one of their posts as well.
The icing on the cake was that I was not only picked as one of the five winners but I was the top winner among the shortlisted five 🙂
Interac announced it on their blog here
I had an amazing time at the conference, met amazing people and Gary absolutely killed it on stage. Here is a picture during the Meet and Greet. Got a signed book of Crushing It too 🙂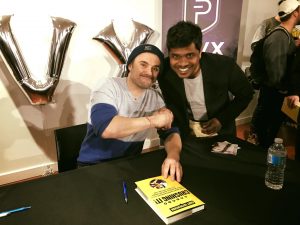 When you really set your heart on something and take every measure that comes your way to reach that, the universe really does its part in bringing that to you on a platter.
Thanks for reading. Good luck 🙂