Here is my review of the 100-day blogging course by Deepak Kanakaraju. This is an honest review and is last updated as on August 2018.
My Experience as a Blogger
I have been a passive blogger (this blog) for over 6 years now and that is something that I will do forever. The major challenge for me is to come up with what to write about every time I log into my blog. The age-old advice is to zero in on a niche and start building content.
Another challenge is to find ways to monetize the blog so that I can earn a passive income from the blog.
We have a lot of tools that are aimed to help startups, bloggers, and entrepreneurs. There are best practices when it comes to everything. It is important to find the right mentors for learning anything.
Your Trainers for 100 Day Blogging Course – Deepak Kanakaraju and Sanjay Shenoy
What if you are guided by a seasoned blogger who has written over 250 quality articles in the domain of Digital Marketing? Last month, I found about this course in a Facebook group dedicated to Digital Marketers here.
Deepak Kanakaraju is a well known digital marketing expert who has headed the Digital Marketing teams in popular tech startups like Instamojo, Razorpay, Practo etc and he has trained thousands of professionals in this domain.
He has come up with this unique and intensive course where he builds a blog from scratch and documents the same in video lessons. He is a blogger since 2008.
He even recently spoke in TedX on how blogging changed his life and it is an interesting watch as well.
Sanjay Shenoy has headed Marketing at Explara and was part of Thrillophilia's Digital Marketing team as well. The first 50 videos are handled by Deepak Kanakaraju and the next 50 are handled by Sanjay.
He is currently part of Pixeltrack along with Deepak and they work on digital marketing campaigns as well as on-site training for some of the leading brands in the market.
What's required from your end?
All you need to do is to identify your niche and start a blog and follow what he does for 100 days exactly and I am sure your blogging journey will be sorted out when you complete the course.
You will learn and implement the basics of digital marketing in each and every chapter. Not just you but over 1500 bloggers who are taking up the course along with you.
I am now 85 days into the course and I have learned a good load of new and exciting things from Deepak & Sanjay.
Many of my friends have an innate desire to start writing and documenting their experiences in the form of a blog.
And this is a perfect place to learn from the experts and take your blog on a global scale. For getting started with this course, you can register by paying here.
Here's a short overview of the topics this course will be covering:
● How to Find a Perfect and Profitable Niche for Your Blog…
● Picking the Right Domain Name for Your Site…
● How to Create the Best Content for Your Site…
● Where and How to Find Images for Your Blog
● Generating blog post ideas that guarantee you'll never worry about what to write…
● Google Analytics: How to Setup Traffic Stats on Your Blog…
● How to Format Your Blog Posts to Get Them Read…
● Social Media Tools: The Best Tools for Automation and Growth…
● Social Media: How to Access and Influence 2 Billion Social Users…
● Social Media Sharing: How to Get More Social Shares …
● Building a Massive and Profitable Mailing List…
● Guest Blogging: How to Get Exposure on Authority Sites…
● The Importance of Networking & Making Connections…
● Creating Call-to-Actions: Getting Your Audience to Convert …
● How to Get Media Exposure for Your Blog…
● Outsourcing: Content, Promotion and Social Media Marketing…
● Google Adsense: How to Make Your First Dollar Blogging and Google Analytics…
● Affiliate Marketing: How to Make Money Blogging…
● How to Build Your Personal Branding, Position Yourself as an Expert and Achieve Career Growth…
● How to Create Products That Sell Like Hot Cakes
Marketing through social media channels is covered in extreme detail across multiple chapters. The social media platforms covered in the course are Facebook, Twitter, Pinterest, Instagram, Linkedin, Quora etc.
The lessons are delivered through a learning management system and you can log in and watch the lessons in the comfort of your home/office. You also have the option to download the videos so that you can binge watch them.
However, I prefer to use the LMS and I implement what I learn in the video at the same time on my blog in a different tab. This way, you can experiment and refer the video for any queries.
You can post your queries as comments under the same video and you will get quick support from Deepak's team.
Pros
Simple and easy to understand video lessons documenting every little task that is done to make the blog better.
Bonus lessons on request for complex tasks which needs more clarity
An amazing Facebook group with wonderful 2500+ bloggers who jump in to help you whenever you face any issue whatsoever.
Excellent Feedback Mechanism through active polls on Facebook Group.
'Ask Me Anything' from Experts like Pardeep Goyal on FB Group which threw a lot of light on Content Marketing. I am sure there is more to come.
Very light on the wallet in terms of Pricing and the value is given is 20x more. The courses provided by institutions in digital marketing are priced higher than 50000 INR. This practical course on blogging will make you strong in digital marketing aspects as you will implement the industry best practices to scale your blog.
Self-paced learning through a Learning Management System and it serves as a ready reckoner for any doubts.
Pocket-friendly hosting packs by partners of Deepak Kanakaraju. VisualCloudX which is run by Nitin Agarwal is my favorite pick and hosting plans start as low as 99 INR per month.
Great learnings from fellow bloggers from unique niches.
You can consider this as a course or as a challenge – both ways it's a win.
Planned city based meetups with students of the program like the one below in Bangalore.
Cons
100 days have passed a while back and yet we have finished around 96 lessons only. There were a few bonus videos though apart from the daily lessons.
The delay in the lessons created unrest now and then amongst the members but Deepak provided value through study materials and free lessons in various other domains in digital marketing.
I am extremely thankful for this amazing course and I am so looking forward to what we accomplish as a group.
My Results
Although I had this personal blog, I wanted to start a brand new blog for this course and that's how SellBetter was born. I wrote articles about Sales tips, techniques, book reviews, marketing etc in this blog.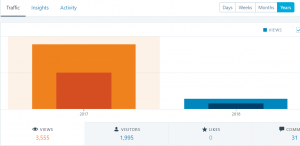 I had around 2000 visitors on my blog in 2017 and I have been a bit irregular with my blogging on SellBetter in 2018 and hence the dip in traffic. Never the less, I have published 24 posts and planning to do a series of posts later this year.
The above is the snapshot of most visited pages, traffic from countries and traffic sources for the year 2017 of Sellbetter.
Why do you need a blogging course?
Here are some of the reasons why you should get a blogging course to kickstart your blogging journey.
1. Accountability: Let's say we get a free pass to a workshop. Just before the particular day, it is easier for our mind to find a reason to avoid going to that workshop. If the same pass is bought by giving 500 INR, you will definitely attend the workshop to get the most bang for your buck. In the same way, spending on a blogging course will keep you accountable.
2. Companion bloggers: When you take a blogging course, you have a lot of fellow newbie bloggers who are taking the course along with you. This means that you have the motivation to compete against each other. Also when you are stuck in a particular step, you can take help of someone else in your group to get to the next stage. This setup is very similar to the group coaching classes during our school days.
3. A solid network of bloggers: Even after the course ends, your will have strong connections with the bloggers and this helps in areas like Guest posting & working together on freelance projects.
Happy Blogging 🙂
P.S: For everything related to Digital Marketing, you can join this awesome Facebook group which has over 91000 marketers from across the globe.  Shoot any question here and prepare to be surprised with helpful answers.